Not Sure Where to Bring Your Date This Valentine's Day? Don't Worry, ChubbeeCloud Got You!
Posted on: 16 January 2018
5 Romantic Dining Spots You Can Go This Valentine's Day!
1 Café café @ Kuala Lumpur
Café café is a savory piece of Paris hidden in Kuala Lumpur. Tucked away from the KL city busy life! Café café is an award winning café that offers fine French cuisine with a 19th century Parisian air.
Many have claimed this hidden gem isn't an easy place to find, as it is located at the corner of a row of shop lots. However, if you ever come across an antique looking door with '175' above it, then bingo! You've found it.
Anyway, Café café's 'the foie grass' is praised as the best appetizer on their menu. Of course, you got to start your meal with the true authentic dish and taste of French cuisine (am I right?). For the main, you have to give their Wagyu beef a try! Each bite of it feels like butter on the tongue, the texture is as soft as a piece of chocolate melting in your mouth. Boys and girls, ladies and gentlemen, I hope you will save an extra space for dessert! Their Chocolate Molten Cake with Ice Cream is a must try, you won't regret it!
Address: 175, Jalan Maharajalela, 50150, Kuala Lumpur.
Website: http://www.cafecafe.com.my
Price: Range rm20-80 per person
2. Marco Creative Cuisine @ One Utama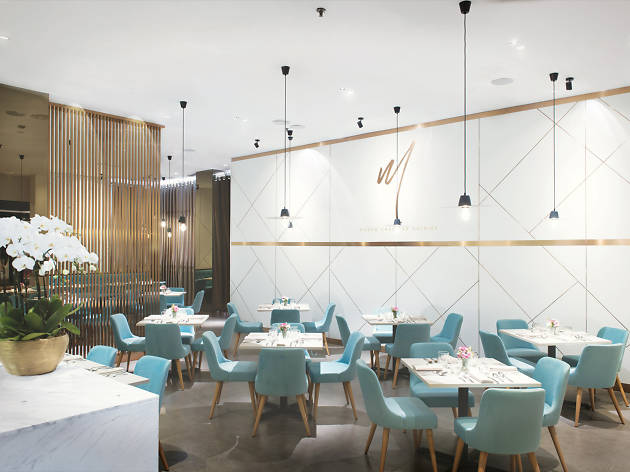 Have you ever come across circumstances where you really want to feast at a fine dining restaurant, but your wallet is drying up and telling you No? But regardless, you wanna give the best to your boo so you both could have a memorable valentine's date but conceivably pay a small amount of the cost? Marco Creative Cuisine is up in the list!
Marco has a really nice baby blue theme that is a very casual and soothing ambience. Not only that, but they have live jellyfish aquarium right in front at the entrance! If you are seated at the front, those jellyfish could help you calm your mood while you wait for your food to arrive.
Their multi-course meal come in two different set in different price range. Their first multi-course meal is @rm188+ with 8 courses including beverage. You can choose a main dish with 3 different options, 2 options for desserts and drinks. While their second multi-course meal is @ rm98+ with 5 courses. 3 options for appetizer, entrée, desserts & drinks and 6 options for the mains. If the multi-course meals don't suit your liking, you can definitely go for their ala carte menu as well!
Address: Lot G146 1Utama Shopping Centre 47800, PJ, Selangor.
Website: http://marcocreativecuisine.com
Price: Range rm90-200+ per person
3. Define Food @ Mid Valley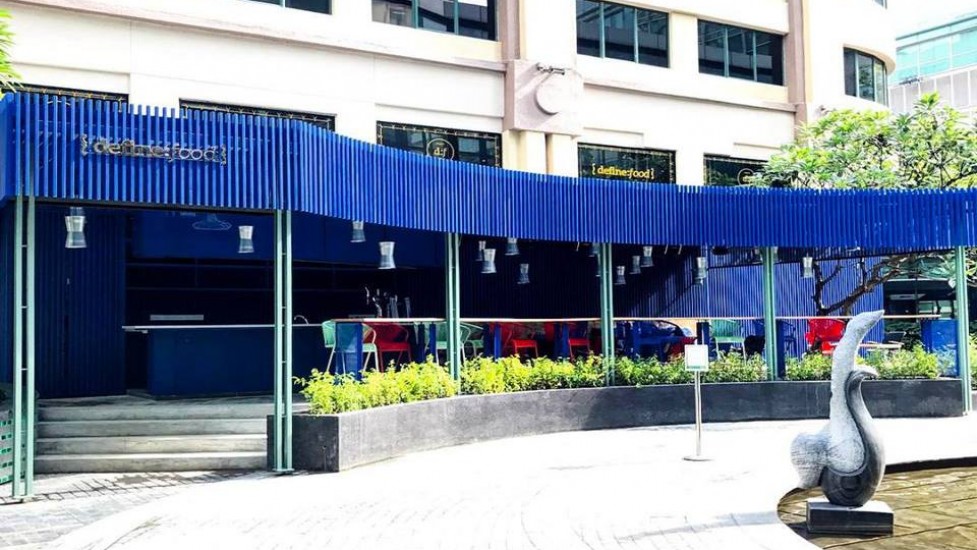 I believe most of us have been to Mid Valley or Gardens at least once or twice in our life. One of the crowded spot would be the water fountain along the boulevard stretch between Mid Valley and The Gardens. This café's outdoor bar is located right by the water fountain, where most of us don't really pay attention to it hahah! It's great for an evening drink to take a break and enjoy the environment. Whereas it's actual restaurant is located right by the outdoor bar.
Once you've spotted it's hidden spiral stairs, head on up and the receptionist will stand by the entrance greeting you with a warm welcome! It is advised to call for a reservation as Valentine's Day is a special day for celebrating with your love ones.
Address: 29.1, Level 1, Signature Offices, The Boulevard, Lingkaran Syed Putra, Mid Valley City, 59200, KL
Website: www.facebook.com/define.food/ or www.zomato.com/kuala-lumpur/define-food-mid-valley-city/menu
Price: Range rm150+ for one (Wine add on rm88)
4. Marini 57 @ Kuala Lumpur
There are many classy fine dining restaurants located around KL with the Twin Tower night view. Marini on 57 is one of the fine dining restaurant with a bomb ass breathtaking night view (yes really!). Definitely a perfect venue for all occasions that goes from celebrations, ladies' or men's night out, you name it!
Recommended hours to stop by this place would be their 'Sunset hours' between 5-9pm to witness the sun setting while it's sunrays shine over the land of Kuala Lumpur and colors of the clouds change!
Boys that are planning to confess or propose, this place definitely won't go wrong! *wink*
Address: Level 57, Menara 3 Petronas, Persiarann KLCC, 50088, KL
Website: https://marinis57.com
Price: Approx. rm300 for two
5. Nobu @ Kuala Lumpur
If you'd like to go for something different instead of Italian or French cuisine, Nobu KL is an infusion cross between Japanese and South American cuisine. You will be able to taste a mix combination cuisine that will literally surprise you!
The famous Hollywood actor and producer Robert De Niro, producer Meir Teper co-owns this brand with chef Nobuyuki Matsuhisa. They flew in to KL on its grand opening on May 2015 stated by The Star.
Nobu KL is located a level below Marini 57, their Valentine's Omakase 7-course meal is also a perfect dining location with a breathtaking view to bring your beloved for an unforgettable Valentines!
Address: Level 56, Menara 3 Petronas, Persiaran KLCC, 50088, KL
Website: www.noburestaurants.com/kuala-lumpur/menus-5/lunch/#.WlbYkiOB3s0
Price: Range rm490+ per person